According to the EEOC:
"As part of the Equal Employment Opportunity Commission's (EEOC) year-long 50th anniversary celebration, the agency has released
American Experiences versus American Expectations
,
a report that illustrates the significant changes to the demographics of the American workforce since EEOC opened its doors in 1965. The report, which also highlights continuing challenges in our workforce demographics, uses EEO-1 data to track employment participation from 1966 to 2013 for several demographic groups, including women.
Beginning in 1966, all employers with 100 or more employees (lower thresholds apply to federal contractors) have been required by law to file an Employer Information Report EEO-1 with EEOC. In fiscal year 2013, the most recent year for which data is available, approximately 70,000 employers filed reports indicating the composition of their workforce by sex, race/ethnicity, and major job categories. (For more information about the EEO-1 and job categories, please see
http://www.eeoc.gov/employers/eeo1survey/index.cfm
.)

American Experiences versus American Expectations reveals several noteworthy trends concerning the experiences of women in the workforce:
Image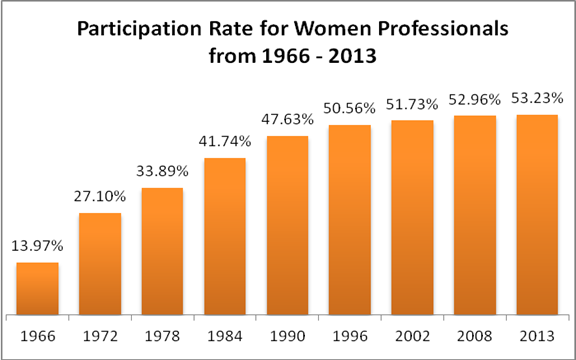 Women saw increased participation rates in Officials and Managers, Professionals, Technicians, and Sales Workers from 1966 to 2013.
While women saw increases in their participation rate in Officials and Managers, Professionals, Technicians, and Sales Workers from 1990 through 2013, there was a decline in their participation rate as Office and Clerical Workers during those years.
Despite overall increases in participation rates for women in Officials and Managers and Professionals occupations barriers to entry may still exist. In 2013, women represented 53.2 percent of Professionals, while they made up only 38.6 percent of Officials and Managers.
Data also suggests that women continue to experience occupational segregation in nontraditional jobs. In 2013, women composed 7.3 percent of all Craft Workers, while the participation rate for women in the Office and Clerical Worker category was considerably higher at 75.6 percent.
By comparison, between 1966 and 2013, women's participation rates in the workforce increased from 31.5 percent to 48.7 percent (
2013 EEO-1 Indicators report
). In 2013, the United States' 161 million women made up roughly 51 percent of the population. Despite the gains in employment made by women in the last 50 years, the annual median earnings of women working full time in 2013 was $39,157, compared with men at $50,033.

EEOC's Efforts to Address Sex-Based Discrimination in Employment

EEOC is responsible for enforcing, among other laws, Title VII of the Civil Rights Act of 1964, which prohibits discrimination based on sex in any aspect of employment. In FY 2014, sex discrimination comprised nearly 30 percent of the charges filed with EEOC under all the statutes the agency enforces. Of these charges, women filed 19,605, or 74.4 percent. The issues most frequently alleged in these charges were discharge, harassment, and sexual harassment.

Through its 53 offices nationwide, EEOC works to stop and remedy sex-based barriers to equal employment opportunity such as hiring discrimination and harassment. During FY 2014, EEOC staff resolved roughly 26,000 charges of employment discrimination based on sex and recovered $106.5 million for individuals along with substantial changes to employer policies to remedy violations and prevent future discrimination-without litigation.
Among the types of discrimination faced by women workers, pay discrimination is a priority for EEOC. As such, we are ensuring that employees
know their rights
when it comes to pay discrimination. In addition, the agency is a member of the
White House Equal Pay Task Force
, which works to address the persistent pay gap between male and female workers. Since the task force's creation in 2010, EEOC has obtained more than $85 million in relief for victims of sex-based wage discrimination through voluntary resolutions with employers. EEOC also has litigated and resolved cases on behalf of women who have challenged pay discrimination in a wide variety of occupations, including teaching, human resources, and restaurant work.
Women also continue to face persistent pregnancy discrimination. Last year, EEOC issued a comprehensive update to the agency's
pregnancy guidance
. In 2014,
thousands of women filed charges alleging pregnancy discrimination
with EEOC, and we obtained over $14 million in monetary relief through voluntary resolutions. Through our
litigation
, EEOC has successfully challenged pregnancy discrimination in areas including hiring, promotions, assignments, failure to accommodate pregnancy-related work restrictions, and retaliation.
Combating harassment is another priority for the agency. The first Commission meeting of 2015 focused on
preventing and addressing workplace harassment
. We heard
testimony
that one in four women face harassment in the workplace, and many are loath to report it. Commissioners Victoria Lipnic and Chai Feldblum are co-chairing an anti-harassment task force convening experts from the employer, advocate, and academic communities to identify effective strategies for preventing and remedying harassment in the workplace
.